You must have heard about the education metaverse enhancing online education. Metaverse platforms allow you to work and meet acquaintances, family, or friends. In addition, it lets you connect socially for any kind of activity. Furthermore, metaverse in education seems to have a bright future. 
It has been a little while since the metaverse has been in the boom. However, many industries, industry experts, and companies have understood the potential of the metaverse. For example, Google has invested a lot in metaverse projects. In addition, Walmart is signing the trademarks for the metaverse. Further, companies like Disney and Nike are working on establishing their metaverse units.
In the education domain, metaverse statistics speak a lot.
According to Globe News Wire, in 2021, the international market for the metaverse in education was USD 4.9 billion, and it may reach USD 94.9 billion by 2030.
But, first, let's know what is in the metaverse that drives the education world!
Metaverse in education 
Metaverse has the ability that can bring beneficial changes to the education system. For example, students can try virtual field trips. Additionally, learners can unite with their friends all over the world. So, basically, it removes the barrier of location. Students can learn from anywhere in the world.
Moreover, the metaverse has the foundation of virtual reality. And virtual reality itself has a significant meaning in the education domain.
According to Fortune Business Insights, the global virtual reality in the education market was USD 656.6 million in 2018.
It is expected to reach USD 13,098.2 million by 2026.
Furthermore, the metaverse is the combination of many such technologies. It includes augmented reality, mixed reality, extended reality, simulated reality, etc. It basically is a 3D representation of the internet world.
How is metaverse in education beneficial?
In a shorter period of time, the metaverse has shown its significance in a variety of fields. Big industries such as gaming, manufacturing, media and entertainment, architecture and engineering, and education can benefit to the next level from the metaverse.
The contemporary education system demands advanced technologies, tools, and modules to engage students and make the most of learning. The metaverse in education supports the same. The following are some of the benefits of the metaverse in education.
High on engagement levels!
Yes, you heard it right! The metaverse platform can be insanely engageable! It lets developers create customized online classrooms. But, there is one and only limitation-imagination. Your imagination will be the only roadblock when you create a metaverse online education platform. A realistic 3D environment and entertaining features like different avatars will boost enthusiasm and add a fun element to the online classroom.
Immersive learning is possible.
First, do you know what immersive learning looks like?
So, immersive learning is the methodology of using virtual reality to immerse students. In addition, it initiates virtual dialogue. Further, it gives students the feeling of being present.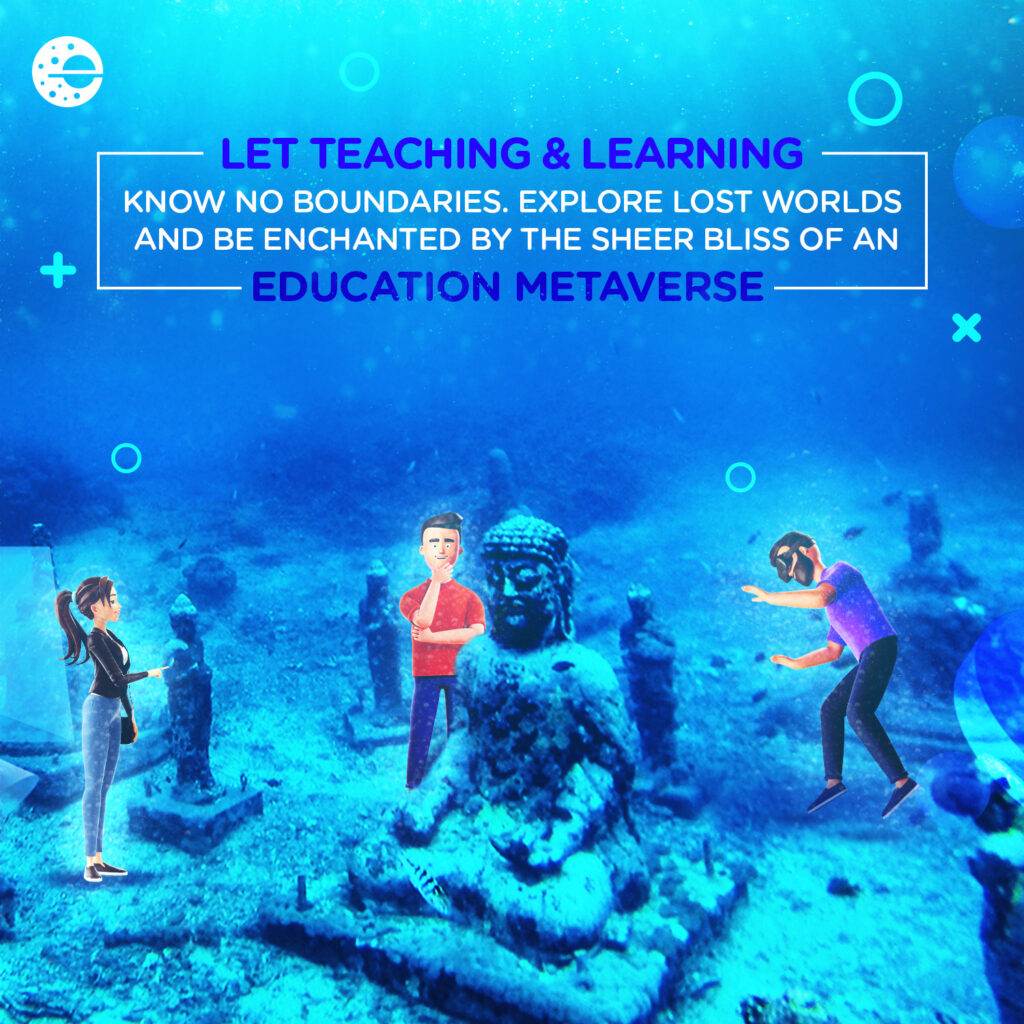 Metaverse, as discussed earlier, has the basis of virtual reality and augmented reality. Therefore it can help in creating an immersive learning experience. In addition, it lets students make use of theoretical knowledge to practice via practicals and experiments.
It encourages communication.
While the education world shifted online, students started missing the charm of offline systems. In traditional offline education, students could talk to each other, share ideas, work, tiffins, and most importantly, have fun! Well, online can not be the same. But, advancements like the metaverse can bring an element of offline education back- communication. 
Metaverse can promote communication. In this, students can create their own study rooms and connect with other students using avatars. They can share their files, collaborate, study together and share their thoughts. Also, the platform can help them get to socialize. As a result, it positively reflects in their classroom performance.
Activity. Fun. Games.
All these together in an education platform! Don't you believe it? But, you have to! Metaverse can support different activities like games. Some say the metaverse can gamify education. The benefits of gamifies learning can boost the problem-solving skill of the students.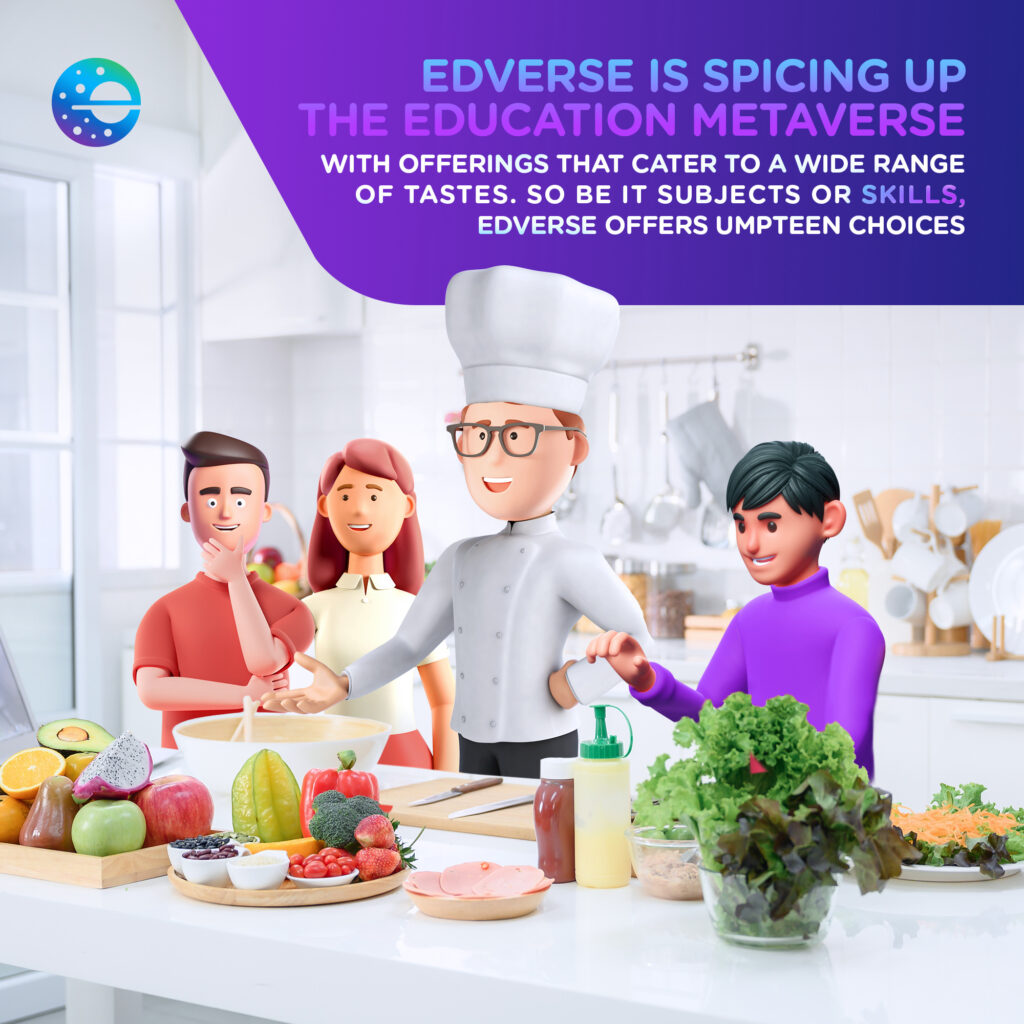 Additionally, it makes learning fun and effortless. It is vital for students to enjoy the learning phase. When students have fun while learning, they can master things quickly. Further, metaverse systems can enable real-time feedback. Also, realistic gaming scenarios with the help of augmented reality and virtual reality can enhance the learning experience.
It benefits educators too!
There is an empty canvas of opportunities for educators using metaverse. They can create activities, fun tasks, and assignments, make students communicate in a creative way, and whatnot! But, most importantly, educators have the benefit of teaching students in a technologically robust, virtually able, and innovative 3D environment. However, though students communicate with diverse peers, educators have control over it to avoid bullying or any such activity.
The world can change in a fraction of time. In addition, powerful technology can dominate the world in a short span. Similarly, institutes will be scaled up faster depending on how they adopt the new technologies in the education system.
Do you wish to stay ahead of the competition to produce more outcomes for talented students? Then, it is vital to leverage the power of the metaverse in education.
Conclusion
According to Allied Market Research, the worldwide e-learning industry was USD 197.00 billion in 2020.
By 2030, it is predicted to grow enormously to reach USD 840.11 billion.
We all have seen the drawback of a covid pandemic. It shattered localities. Also, it affected people. Schools were closed and shifted to e-learning. But, thanks to technology, anything didn't stop learning. Moreover, it opened a wide range of avenues and solutions so that pupils could learn. As a result, most institutes adopted online learning ways.
Furthermore, now there is technological advancement like the metaverse. It has the potential to scale up this transformation. Metaverse schools can benefit students beyond geographical barriers. It can bring schools to their fingertips and offer stupendous knowledge and vast opportunities. Moreover, the metaverse in education has limitless possibilities.
Also Visit: Metaverse Development Company